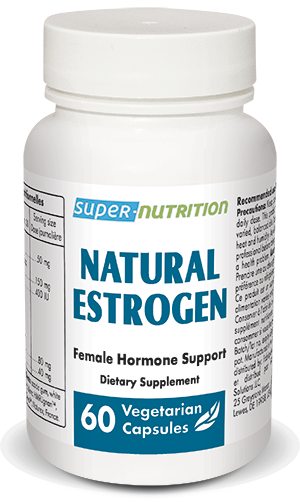 Natural Estrogen
60 vegetarian capsules
in stock
Helps restore female hormone balance
Completely reformulated to reflect important scientific advances, this product contains plant extracts known for their ability to relieve menopause symptoms through effects on oestrogen metabolism and balance.

¤ Chasteberry extract (Vitex agnus castus) has a hormone-balancing effect. By stimulating the secretion of luteinising hormone, it inhibits the release of follicle-stimulating hormone (FSH) and helps increase progesterone levels by balancing the ratio between oestrogen and progesterone. It is very effective at relieving hot flushes.

¤ Estro G100™ is a proprietary blend of natural extracts of Korean herbs : angelica, Phlomus (sok-dan) (known for its soothing benefits) and Cynanchum (keon-jo-rong), a traditional ingredient for supporting the nervous system and promoting restful sleep. A recent clinical study measured the effects of Estro G100™ on menopause symptoms using the Kupperman index (KMI) which evaluates all the symptoms associated with this stage in a woman's life. A highly significant, 50% improvement was reported.

¤ Lifenol™ is a new hop extract derived from female hop cones which has considerable phyto-oestrogenic potency. Its effects are related to a high, standardised content in prenylflavonoids. Two clinical studies using the Kupperman index have shown it to be highly effective against menopause symptoms, after 6 to 8 weeks' supplementation.

¤ HMR Lignan™ is a Norwegian spruce extract standardised in 7-hydroxymatairesinol. It is an enterolactone precursor which mimics oestrogen levels in flux during the climacteric period. It has also been shown to help prevent breast cancer and osteoporosis.

¤ Vitamin D3 plays a key role in preserving bone metabolism, which is particularly affected by the menopause.
Daily dose : 2 capsules
Number of doses per box : 30
Amount per dose
Vitex agnus castus (Chasteberry extract 5 % vitexin)
50 mg
Estro G100™ (extracts of Phlomus umbrosa, Cynanchum wilfordii, Angelica gigas nakai)
150 mg
Vitamin D3
400 UI
Lifenol™ (Hop extract standardised to 8-prenylnaringenin 0.15 %, 6-prenylnaringenin 0.1 %, xanthohumol 3 %, isoxanthohumol 1 %)
80 mg
HMRLignan™
40 mg
Other ingredients : Acacia gum, rice flour.
HMRLignan™ , Linnea SA, Suisse.
Estro G100™, Sunbio, Corée du Sud.
Lifenol™, Naturex, France.
Women over 40. Take one or two vegetarian capsules a day, as required, or as advised by your therapist.
Also available at Super-Nutrition: