Natural Growth Hormone Formula
120 tablets
in stock
Natural, synergistic stimulant of growth hormone production
Promotes secretion of growth hormones.
Improves reproductive function (spermatogenesis, sperm motility).
Contributes to healthy growth and development.
Certificate of Analysis
Daily serving: 4 capsules
Number of servings per bottle: 30
Quantity per serving
L-arginine base
1 000 mg
L-ornithin HCL
400 mg
Ornithin Ketoglutarate Alpha (OKG)
500 mg
L-glutamin
500 mg
Glycine
400 mg
Lysin
200 mg
L-tryptophane
200 mg
Mucuna pruriens
100 mg
Xanthinol Nicotinate
50 mg
Vitamin C
200 mg
Vitamin B6
50 mg
Other ingredients: calcium carbonate, stearic acid, maltodextrin, croscarmellose sodium, shellac
Take 4 tablets before exercise and/or before bed.
Also available at Super-Nutrition:
in stock

A bioavailable form of lithium with proven efficacy
90 veg. caps.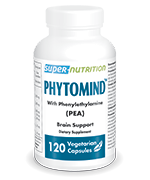 Temporarily unavailable
Neurostimulant formulation with Phenylethylamine (PEA)
120 Veg. Caps