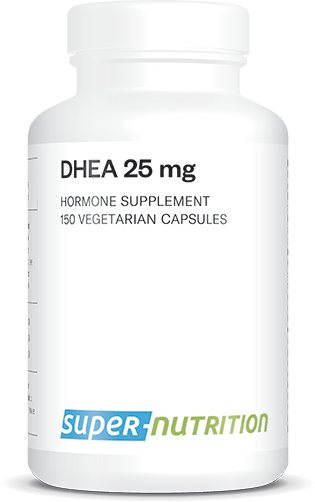 DHEA 25 mg 150
150 vegetarian capsules
in stock
DHEA hormone of youth supplement 25mg (150 tablets)
Compensates for age-related deficiency.
For preventing the effects of ageing, menopause, excess weight, osteoporosis and age-related problems.
DHEA is the substance from which your body makes other hormones such as testosterone, estrogen and Progesterone, and it is known to be an essential component in many physiological functions in the body.
Indirectly DHEA supplementation generates an increase of the IGF-1 level (a growth hormone metabolite), which could be one of the possible reason for its health benefits. DHEA is naturally produced in the human body, mainly by the adrenal glands. It circulates in the body mostly in its water-soluble form, called DHEA-sulfate (DHEA-S), its level can be easily measured.
Daily serving: 1 capsules
Number of servings per bottle: 150
Quantity per serving
DHEA
25 mg
Other ingredients: Acacia gum, rice flour.

Each vegetarian capsule contains 25 mg of DHEA
Adults. Take one vegetarian capsule every day with food, or as recommended.
Also available at Super-Nutrition: