Lithium Orotate 125 mg
90 veg. caps.
in stock
Neuroprotective Lithium (Orotate) supplement
Helps control mood swings.
Recommended for Alzheimer's disease.
Used for preventing cognitive decline.
Certificate of Analysis
Lithium is an alkaline mineral from the same family as sodium and potassium which has been used for very many years to treat forms of mania.
What is a Lithium Orotate supplement?
Lithium orotate, a salt of orotic acid and lithium, significantly enhances lithium bioavailability resulting in a 70-80% improvement in mood in those with bi-polar depression. The alternative physician, Hans Neiper, was responsible for the discovery, early study and use of 'orotate' salts. Mineral salts of orotic acid are, in fact, used by plants and animals to make DNA and RNA.
Nieper used orotates clinically in the 1980s, believing that as they were neutrally charged, they could pass easily through cell membranes – a theory subsequently confirmed by science. In effect, orotates transport the minerals into cells and tissues, producing higher concentrations in situ but from much lower doses (up to 20 times lower!). Lithium orotate has other applications:
As a neuro-protector, it is helpful in treating neurodegenerative diseases such as Alzheimer's, Parkinson's and multiple sclerosis;
These new indications complement those already identified by Neiper – he used it to treat migraine, epilepsy and alcoholism;
It has also been reported to lower blood sugar levels, to stimulate the immune system and to have an anti-viral effect (in Herpes simplex).
This new lithium orotate is easy to use, has no side-effects and offers a range of benefits. It is undeniably a nutritional supplement well worth rediscovering for the maintenance of good health.
What benefits are associated with Lithium Orotate?
Lithium is still prescribed today for manic-depressive psychosis or bipolar affective disorder, where it has proved
extremely beneficial
. However, the forms of lithium prescribed (citrate or carbonate) are poorly absorbed by the body and have a very narrow therapeutic range - effective doses are high and are, in fact, close to toxic doses. Furthermore, high-dose lithium depresses dopamine release, causing a drop in mood; in contrast, lower doses stimulate serotonin production, producing an
anti-depressant effect
, which is exactly what happens with
lithium orotate.
It's also effective against:
Recurrent unipolar depression;
Serotonin deficit resulting in compulsive and addictive behaviour (it helps people wean themselves off cigarettes and alcohol);
Excess sodium and oedema;
Migraines, as pain relief.
Daily dose : 2 capsules
Number of doses per pack : 45
Amount per dose
Lithium (from 250 mg lithium orotate)
10 mg
Other ingredients : Acacia gum, rice flour.
Adults. Take one to two vegetarian capsules a day, or as advised by your therapist.
Each vegetarian capsule contains 125mg lithium orotate.
Also available at Super-Nutrition:
in stock
Growth hormone precursors in a complete and totally balanced formulation
120 tablets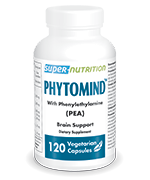 Temporarily unavailable
Neurostimulant formulation with Phenylethylamine (PEA)
120 Veg. Caps