PhytoMind™
120 vegetarian capsules
in stock
Sensational "PhytoMind" formulation for stimulating brain activity
Contains significant, effective level of Phenylethylamine (PEA).
Synergistic action with other stimulant compounds - Bacopa monnieri, Ginkgo biloba, Eleutherococcus.
Certificate of Analysis

Phytomind is the first formulation to contain a significant and effective amount of Phenylethylamine (PEA). PEA is an endogenous (produced naturally) neuroamine, sometimes called a neurohormone. It increases brain attention and activity and - like Prozac - relieves depression in 60% of patients, but unlike Prozac - has no contra-indications or side-effects.
People in love have particularly high brain concentrations of PEA (it's responsible for 'love at first sight'), as do long-distance runners, which might explain the anti-depressant effects of endurance exercise. Plain chocolate is one of the best food sources of PEA - a possible reason for the enthusiasm and passion shown by chocaholics!

According to scientists, PEA improves mood faster than amphetamines and is non-addictive (J Neuropsychiatry Clin Neurosci, 1996 spr. 8:2, 168-71). It's a natural treatment for depression which acts over a few hours or days. PEA is particularly suitable in cases of manic depression, for which another particularly effective supplement - SAMe (see product), is not recommended.
PEA is equally suitable for those in good health who wish to increase their intellectual performance, their sensitivity, and perhaps even more so, their sex drive and amorous tendencies….
Daily serving: 4 capsules
Number of servings per bottle: 30
Quantity per serving
Klamath's Best® Blue Green Algae Powder (Aphanizomenon flos-aquae powder) containing approx. 4 mg of phenylethylamine (PEA)
800 mg
Bacopa monnieri (20% bacosides)
100 mg
Mucuna pruriens (20% L-dopa)
100 mg
Ginkgo biloba (24% ginkgolides, 6% terpenes)
50 mg
Siberian ginseng (0.8% eleutherosides)
40 mg
Other ingredients: Acacia gum, rice flour.
Klamath Valley Botanicals, LLC, USA.
Take two Phytomind capsules in the morning on an empty stomach - the dose may be repeated mid-afternoon.
Also available at Super-Nutrition: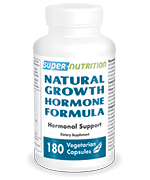 in stock
Growth hormone precursors in a complete and totally balanced formulation
120 tablets